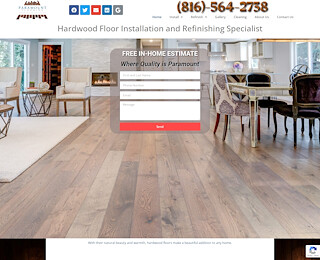 When you consider the amount of time and money that's required to have genuine hardwood flooring installed throughout your home you will want to ensure that you keep it looking its best. Having your hardwood floor refinished professionally brings out the wood's natural beauty and ensures that it continues to remain in excellent condition, which will extend the life and the allure of the flooring. For over the last fifteen years the hardwood flooring experts at Paramount Flooring have been providing the most experienced and affordable hardwood floor refinishing in Johnson County, KS.
At Paramount Flooring, we are recognized as the leading flooring business that specializes in hardwood floor refinishing in Johnson County, Kansas, and throughout the entire region. We strive in providing our strongest level of work and exceptional craftsmanship to every job site that we visit and every project that we complete. We are fully insured, licensed and bonded for your protection and peace of mind.
Refinishing Instead of Replacing
If you take proper care of your hardwood floors, they can last a lifetime which can save you a significant amount of time and money. Over the years, hardwood floors lose their luster and shine because the protective coating wears off. If the coating is not refinished or replaced it can cause permanent damage to the planks of wood. If the damage is not addressed eventually it will need to be replaced with new wood. Moisture can also seep into the wood, when the protective coating wears off, which can lead to warping and bowing of the wood.
Increase the Value and Appearance of Your Home
Whether you are considering selling your home now or in the future, it can make a significant difference in the appeal and allure of your home by having your hardwood floors refinished back to their original beauty and color. After we professionally sand your floors down, creating a smooth surface, we can even change the color of the stain to meet your specifications. We will have them looking fresh and lustrous once again. Instead of covering up your hardwood floors with carpeting, consider the benefits of refinishing them.
They're Unique
Beautiful hardwood floors provide an exclusive look to your home as they are becoming rarer as a flooring option for homes. It has been shown that over 50% of potential home buyers will pay more money for homes that include the warmth and style that comes with having hardwood flooring throughout the house. Many hardwood floors are custom created with specific texturing that shows off the beauty of the wood.
If you are considering hardwood floor refinishing in Johnson County, Kansas, Paramount Flooring will gladly provide you with a free estimate before starting any job. We will come to your home and offer suggestions on which refinishing service will best suit your needs. We also provide other services that can save you time and money such as our floor maintenance plans.
Paramount Flooring
8165642738
1608 Halls Creek Ave
Raymore
MO
64083
US